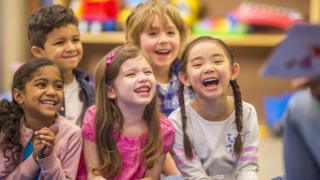 Theresa May is to challenge society over differences in how public services treat people of different races.
On Tuesday, Mrs May will say the government and institutions must "explain or change" the differences.
An "unprecedented" audit pulls together data on how people of all ethnicities are treated in areas including health, education, and criminal justice.
The Equality and Human Rights Commission called for a "coherent race equality strategy" from government.
The public presentation of data brought together from across Whitehall follows on from Mrs May's work when she was home secretary on clamping down on police stop-and-search policies in black communities.
The prime minister will launch a website later containing the data, compiled from across the UK government.
The findings show
Black Caribbean pupils were being permanently excluded from school three times as often as White British pupils
At key stage two, 71% of Chinese primary school pupils met the expected standard for reading, writing and maths, compared with 54% of White British pupils and 13% of White Gypsy and Roma pupils
White British pupils on free school meals performed the worst at key stage two with 32% reaching the expected level
Unemployment among black, Asian and other ethnic minorities is almost double that of white British adults
Those more likely to own their own home are Indian, Pakistani and white people compared with black people and those from Bangladesh
"People who have lived with discrimination don't need a government audit to make them aware of the scale of the challenge," Mrs May will say.
"But this audit means that for society as a whole – for government, for our public services – there is nowhere to hide.
David Isaac, chairman of the Equality and Human Rights Commission, said the data must be used "to set the foundations for real change" and address the "entrenched inequality" revealed by the audit.
Simon Woolley, director of Operation Black Vote, praised Mrs May's "desire to grapple with the scourge of racism", adding: "unless these things are laid bare we can't begin to resolve them."
Pupil exclusion review
Although the audit will not focus on government policies, Mrs May will launch a number of measures to combat the differences discovered.
Under the plans, 20 hotspots for the Department for Work and Pensions will be highlighted to help people from ethnic minorities get jobs.
Measures could include mentoring schemes, traineeships for 16-24 year-olds, and offering English and Maths qualifications alongside vocational training.
The Ministry of Justice will also adopt recommendations from the Lammy Review including making prisons have performance indicators to assess how prisoners are treated.
It will also be made to publish all criminal justice data held on ethnicity and improve the recruitment, retention and progress of ethnic minority staff.
A review of pupil exclusion in schools will be announced with a focus on those most likely to be affected.