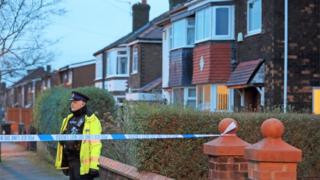 A woman has been charged with murder after police found a body buried in a garden in Greater Manchester.
Barbara Coombes, 63, is also charged with preventing the lawful and decent burial of a body and fraud.
Human remains, believed to be those of her father Kenneth Coombes, were found in a garden in Reddish, Stockport on Tuesday.
Ms Coombes, of Matlock Road, Reddish, is due to appear before Manchester and Salford Magistrates' Court later.
A woman walked into Cheadle Heath police station on Sunday to tell officers she had killed a man a number of years ago, prompting Greater Manchester Police to begin an investigation.
The force confirmed Mr Coombes had been missing for between 10 and 15 years and his disappearance is part of its investigation.
Excavations being carried out in the garden have concluded but officers were still working at the crime scene, it said.