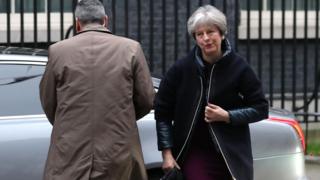 Theresa May is expected to appoint a new Conservative Party chairman when she reshuffles her top team later.
Sir Patrick McLoughlin, a minister as far back as the Thatcher government, is set to be replaced having overseen the general election campaign that ended with the Tories losing their majority.
Several new faces are expected to be appointed to the ministerial lineup.
But Philip Hammond, Boris Johnson, Amber Rudd and David Davis are among key figures expected to stay in place.
No 10 has described reports Education Secretary Justine Greening and Health Secretary Jeremy Hunt will be among those moved as "all guesswork".
Labour said Mrs May should focus on the pressures in the NHS rather than what it said was a "desperate PR exercise".
Other current ministers reported to be vulnerable include Leader of the House of Commons Andrea Leadsom and Business Secretary Greg Clark.
The reshuffle, which will continue into Tuesday, is being seen as an opportunity for Mrs May to promote more women, with female ministers only currently making up six of the 23 full members of her top team.
She is also under pressure to preserve the balance between Brexit sceptics and enthusiasts, while showing the government has a purpose beyond leaving the EU, which critics say is monopolising ministers' time.
The changes, which will be Mrs May's third reshuffle since becoming PM in July 2016, were triggered by her sacking of Damian Green last month as first secretary of state.
---
The risk and reward of reshuffles
Laura Kuenssberg, BBC political editor
Prime ministers do not, as Theresa May well knows, have as much power to shape their fortunes as the trappings of the grand office suggests.
However, one of the things they can control is the timing of reshuffles, and at least the initial set of decisions.
They are the moment when the boss does the hiring and firing of their team – to punish or reward and to position supporters or enemies into the most politically convenient spots.
Whether reshuffles are forced upon leaders by political accidents, such as scandals or resignations, or a desire to refresh the look and direction of the government – it is both in this case – as with many other big set piece moments in politics, they are times of huge potential reward, but huge risk too.
---
Mr Green was fired from his position, a role in which he was effectively Mrs May's deputy, in December after making "misleading statements" to the press about pornography found on his office computer in 2008.
There has been speculation Mr Hunt could be promoted to take on the role – which would see him deputise for Mrs May at Prime Minister's Questions and chair a host of influential cabinet sub-committees on Brexit.
Mr Hunt, who has been health secretary for more than five years, was a Remain supporter during the referendum but has been critical of the EU's approach to the negotiations since then and has said warnings about the economic damage of leaving the EU have so far been over-stated.
Labour said if she promoted Mr Hunt, Mrs May would be "betraying" patients at a time when the NHS was going through one of the worst winter crisis it has had in its recent history.
"The prime minister is clearly detached from reality if she thinks the NHS was properly prepared for this winter," Labour MP Andrew Gwynne said on Sunday.
"The prime minister should be singularly focussed on addressing this problem, and not engaging in a reshuffle that is little more than a desperate PR exercise."
Former Conservative Party leader Lord Howard said Mrs May was "in a strong enough position to do whatever she wants to do".
Speaking on Sunday, the PM told the BBC's Andrew Marr she would be making changes imminently but would not respond to speculation about how far-reaching they would be.
She had reportedly planned a sweeping overhaul of her cabinet before June's snap election but after failing to win the election outright she ended up only making a number of modest changes.
This led to accusations of political weakness and claims from opponents that she was only continuing in the job at the behest of senior figures around her.
In the past two months, as well as losing Mr Green, the PM has also seen defence secretary Sir Michael Fallon quit amid allegations around his conduct and Priti Patel resign as international development secretary after a row over unauthorised meetings with Israeli officials. Both have since been replaced.