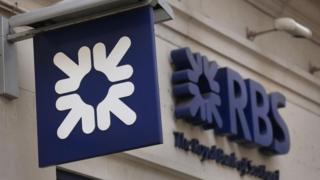 RBS is closing 259 branches and cutting 680 jobs as it reduces costs and more customers move to online banking.
The closures involve 62 Royal Bank of Scotland and 197 NatWest branches.
RBS, which is 72% owned by the taxpayer, said it would try to ensure compulsory redundancies were "kept to an absolute minimum".
"We realise this is difficult news for our colleagues and we are doing everything we can to support those affected," the bank said.
In Scotland, the RBS closures represent one in four of its branches.
'Savage' cuts
An RBS spokesperson said: "More and more of our customers are choosing to do their everyday banking online or on mobile.
"Since 2014 the number of customers using our branches across the UK has fallen by 40% and mobile transactions have increased by 73% over the same period. Over 5 million customers now use our mobile banking app and one in five only bank with us digitally."
The Unite union, which represents staff across RBS, said serious questions needed to be asked about whether the closures marked the end of branch network banking.
Rob MacGregor, Unite national officer said: "This announcement will forever change the face of banking in this country resulting in over a thousand staff losing their jobs and hundreds of High Streets without any banking facilities.
"The closure of another 259 branches is savage. Why is the government signing off this alarming branch closure programme?"
Paul Wheelhouse, Scottish Government Minister for Business, Innovation and Energy, said: "The news of further branch closures from RBS will be hugely concerning to many people in Scotland as it now not only affects, potentially, staff at RBS but also leaves large areas of Scotland, particularly rural areas, with limited branch coverage.
"While recognising that footfall in branches is falling, due to online banking, RBS, and other banks, must take into account the needs of all customers – not just those who can access and use digital services."