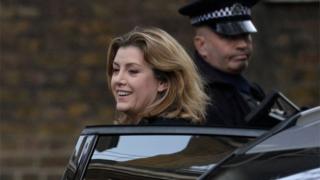 Penny Mordaunt has been promoted to the cabinet as the new International Development Secretary, following the resignation of Priti Patel.
Like Ms Patel, Ms Mordaunt was among Conservatives who backed Leave during the EU Referendum campaign.
The former work and pensions minister, 44, has now left Downing Street and arrived at her new department.
Ms Patel quit on Wednesday, admitting unauthorised meetings with Israeli officials had "lacked transparency".
It was the second cabinet resignation in a week. Last week Gavin Williamson replaced Sir Michael Fallon as defence secretary, after he quit saying his conduct had "fallen short" of the required standards after allegations of inappropriate sexual behaviour.
Ms Mordaunt, MP for Portsmouth North, is a Royal Navy reservist and was appointed as the first female minister for the Armed Forces in 2015. It had been thought she was in the running to replace Sir Michael last week.
She did not comment as she arrived at the Department for International Development on Thursday afternoon.
First elected to the Commons in 2010 and has been minister for disabled people in the Department for Work and Pensions until her promotion. She is also known for appearing on the reality TV programme Splash! in 2014.
BBC political correspondent Vicki Young said she thought Ms Mordaunt would be a popular appointment within the party.
As International Development Secretary she will be in charge of the UK's £13bn foreign aid budget.
In other appointments, Sarah Newton has been made a minister in the Department for Work and Pensions while Victoria Atkins has become a Parliamentary Under Secretary of State at the Home Office.