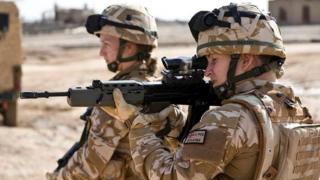 The British Army is launching an advertising campaign, offering "emotional and physical" support to new recruits.
Last month, it was criticised for plans to ditch its "be the best" slogan.
The £1.6 million series of radio, TV and animated adverts will urge people from every ethnicity, gender or background to sign up.
They will pose questions such as "What if I get emotional?" and "Can I be gay in the Army?".
In one advert, a Muslim soldier explains how the army has allowed him to practice his faith.
The adverts are part of the Army's "belonging campaign". All of them are voiced by serving soldiers.
BBC defence correspondent Jonathan Beale says the Army has been struggling to retain and recruit soldiers.
Last year, a campaign was used to promote – what the Army calls – the travel opportunities and friendships within its ranks to boost numbers.
In December, the defence secretary ditched plans to scrap the Army's "be the best" slogan.
According to the Mail on Sunday, the Army was considering changing the phrase after criticism it was "dated, elitist and non-inclusive".