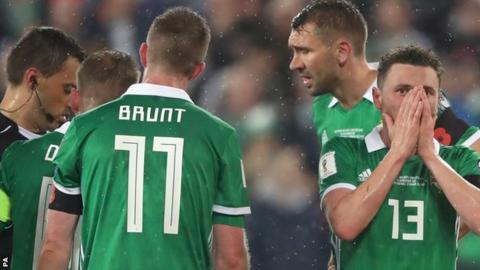 Northern Ireland must "channel the anger" of a controversial penalty decision to beat Switzerland when the sides meet again in Sunday's World Cup play-off second leg, says manager Michael O'Neill.
The Swiss lead 1-0 thanks to Ricardo Rodriguez's spot-kick after Corry Evans was deemed to have handled.
"I am staggered by the decision – it is bewildering," said O'Neill.
"The players are angry but we have to find a way to get a result on Sunday."
What exactly happened?
This was billed as Northern Ireland's biggest home match in more than 30 years and, although Switzerland were dominating the game at Windsor Park, O'Neill's side were holding firm until the intervention of referee Ovidiu Hategan on 58 minutes.
Xherdan Shaqiri struck a fierce drive from the edge of the area towards goal and it hit Evans – standing two yards away – on the shoulder as he turned his back.
No Swiss player appealed and there was widespread consternation when the Romanian official pointed to the spot.
Evans was also booked and will now be suspended for the trip to Basel.
"The ball hit Corry more on his back at the top of his shoulder, so it is incredible," added O'Neill. "No-one had claimed a penalty and I thought the referee had blown for a foul or offside.
"It was such a defining moment in the match and we feel very hard done by."
"It's disgraceful," Evans told the BBC. "I clearly didn't put my hand up. I'm gutted. It's devastating."
What else was said about the decision?
BBC Radio 5 live presenter (and ardent Northern Ireland fan) Colin Murray at Windsor Park
"Feel free to take the mic out of my hands if I overstep the mark in the next 20 minutes. We talked about history and occasion and how football can be a catalyst for change and for heroes. Yet here we are talking about referees. It's the dark ages. Welcome to the dark ages.
"The Republic of Ireland had Thierry Henry's handball in 2009 in a play-off for the 2010 World Cup. It was such a baffling decision tonight. There is nobody in Wales, England or Scotland who thinks that was a penalty. Nobody in Switzerland thought it was a penalty. It was shocking. Here's a clue: if the opposing team do not appeal for a penalty and you're standing on the wrong side of the player, it's probably not a penalty.
"There's no point reading out texts or tweets. There are no shades of grey with that decision."
Former Northern Ireland defender John O'Neill:
"It was a terrible decision. It hit him on the top of the shoulder at best. You have to gauge the reaction of the players. They didn't think it was a penalty. The referee was awful through the whole game. He's the worst referee I've seen in a long time. It did spoil the night.
"I was disappointed with the Northern Ireland performance. In a game of this stature, we didn't perform. Switzerland were the better side by a mile. But if they didn't get the penalty, we'd have played awfully and might have got away with a 0-0 draw."
Switzerland midfielder Shaqiri:
"I don't know if it was a penalty or not. I tried to get a shot on target and I don't know if he touched it with his hand or not. In the end the referee gave the penalty. That is football."
'I'll have to pick the players up'
Northern Ireland are aiming to qualify for a first World Cup since 1986 – and only the fourth in their history.
They are also seeking to reach back-to-back major tournaments for the first time, having reached the last 16 at the European Championship in France last year.
They have been one of European football's surprise packages under O'Neill, finishing above the Czech Republic and Norway – and behind only Germany – in their qualification group.
Switzerland, ranked 12 places above Northern Ireland in 11th, were favourites to progress following a run of nine wins from their opening nine qualifiers. They only missed out on an automatic place in Russia because they lost their final game to Portugal.
But despite the odds now being firmly against Northern Ireland – Switzerland have lost just twice, both times to England, in their past 17 matches at St Jakob's Park stretching back to 2001 – O'Neill believes all is not lost.
"We are still in the tie. We are going to have to find a way to get a goal back," he said.
"I'll have to pick the players up. There's anger in the dressing room – they are very aggrieved by what happened.
"They still believe they are in the tie, that's the most important thing. It is not like we are going there with nothing to play for."