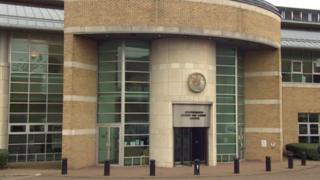 Two children have been taken from the care of their mother, who has a learning disability, after a judge said "kisses and cuddles are not enough".
The family court in Bournemouth heard there were concerns about the "cluttered and unhygienic" home of the 35-year-old woman and her husband.
Judge Martin Dancey said although the children – aged three and one – were loved, they needed "attuned parenting".
The children will now be put up for adoption.
Judge Dancey said the woman had a "mild learning disability" and was partly deaf in both ears. He said the woman's 59-year-old husband was her registered carer. Both had suffered from depression.
During the private hearing, two lip-speakers had translated and lawyers and social workers were encouraged to dispense with legal jargon. The judge produced an "easy read" version of his ruling.
He said the woman had "done everything she possibly could" to look after the children, but he had reached the decision "with careful regard to the mother's needs".
The court heard social workers had raised concern about the couple's supervision of the children and "inadequate" basic care.
He said: "Kisses and cuddles are not enough. Those they got. What they did not have was attuned parenting sensitive to their needs."
Neither the family nor the local authority involved have been identified.