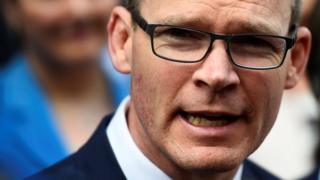 The Irish government wants to give Theresa May time and space to manage "difficult political issues", Foreign Minister Simon Coveney has said.
Mr Coveney was speaking after Brexit talks between the UK and the EU broke up on Monday because of DUP objections to border proposals.
He said the Irish government would work with the British government on issues around the text of the agreement.
But he said they would not reverse out of an agreement they felt was secured.
Mr Coveney, who is also the Republic's deputy prime minister, said the DUP should be listened to, but that one political party could not decide what was acceptable just because it held the balance of power at Westminster.
The Irish government has been seeking guarantees from the UK that there would be no customs checks on the border with Northern Ireland after Brexit and movements of goods and people would remain seamless.
On Monday, Irish Prime Minister Leo Varadkar said he was "surprised and disappointed" a deal had not been reached.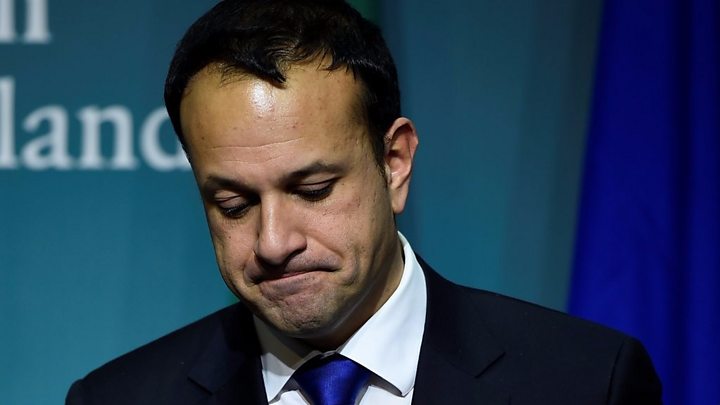 He said the Republic of Ireland could not go into a second phase of Brexit talks without "firm guarantees that there will not be a hard border in Ireland".
Mr Varadkar said the UK had agreed a text that met Irish concerns.
However, he was then later told that the British government was not in a position to conclude "what was agreed".
'Guns to people's heads'
Speaking on Tuesday, his Fine Gael colleague, MEP Brian Hayes, said of the DUP's position: "Putting guns to people's heads is never a sensible thing to do in politics – it's certainly not sensible, centre ground politics.
"What's important here is that we get back to the text, and if there are some words that can help people, fine, but they cannot be a diminution of what we have."
Sinn Féin deputy leader Mary Lou MacDonald said the DUP had been on the wrong side of the Brexit argument from the beginning and appealed for them to "step back" from their position.
Analysis
By Mark Devenport, BBC News NI political editor
The DUP says it never assented to any of the wording which leaked out of the Brexit discussions, whether it be "no regulatory divergence" across the island of Ireland after Brexit or "continued regulatory alignment".
Those words were meant to provide reassurance to the Irish government that, should the EU and the UK not be able to reach a trade deal, there would be a backstop that would guarantee trade across the border would continue pretty much as it does now.
It would mean Northern Ireland businesses adhering to the same standards and rules as their southern counterparts.
However, unionists tend to view with scepticism any proposal for harmonisation of rules on either side of the border.
They are concerned such an approach may be the thin end of a wedge towards Irish unity.
Read more: Difficult days ahead as DUP says 'no'
"I would appeal to the DUP to understand this is not a case of 'orange versus green'. This is all of us on this island, protecting ourselves and protecting each other," she said.
Meanwhile, former UK Foreign Secretary Malcolm Rifkind said it appeared there was a press report "which suggested something different to the agreement, and that's why the DUP took fright".
Speaking to RTE's Morning Ireland, Mr Rifkind said a journalist reported on Monday that regulations and directives would be imposed in Northern Ireland "relating to the border that would not exist elsewhere in the United Kingdom – as if that was a 100% obligation and that was never what the document said".
Mr Rifkind said he understood it may have been in an earlier draft and that it was removed.
He described Mr Coveney's comments on Tuesday as "very constructive".