H&M apologises over 'racist' image of black boy in hoodie
People on social media have called H&M "racist" for showing a black child modelling a hoodie that says 'coolest monkey in the jungle.'
Some are calling for a boycott of the brand over the picture, while others defended the retailer.
H&M has said: "We apologise to anyone this may have offended."
People took to Twitter to describe the image published by the Swedish chain as inappropriate and offensive.
The photograph was being using in the children's section of the UK site and some people weren't happy.
https://twitter.com/blimundaseyes/status/950301474180956161
Dexter Neptune wrote: #BlackTwitter h&m is cancelled won't see anymore money from me.
Another user compared the image to one of a white child modelling a hoodie with the words "jungle survival expert."
https://twitter.com/ArianelaSelene/status/950207848910290944
Others questioned how no-one spotted that the image may be offensive.
Someone else wrote: "No doubt the H&M monkey hoodie photoshoot was organised with completely innocent intentions but in today's outrage society you have to triple check everything you do."
People also defended the clothing brand, some said it was an innocent mistake and others said the brand isn't racist.
https://twitter.com/ALLIESOPHIALOV1/status/950265360409944065
https://twitter.com/simonmount1/status/950282366857220096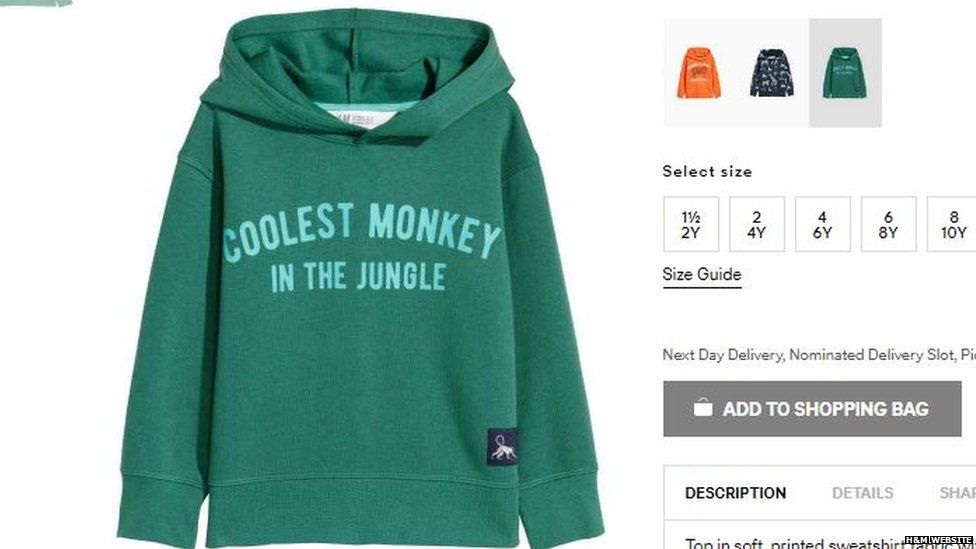 The hoodie is still available to buy online but it no longer features the image of the child modelling it.
The company said: "This image has now been removed from all H&M channels and we apologise to anyone this may have offended."
Find us on Instagram at BBCNewsbeat and follow us on Snapchat, search for bbc_newsbeat
H&M apologises over 'racist' image of black boy in hoodie