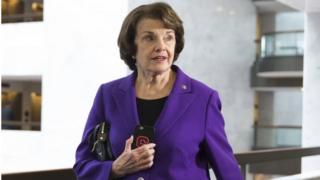 A US senator has released a transcript of the testimony to Congress by the founder of the firm that researched Donald Trump's alleged ties to Russia.
Glenn Simpson's Fusion GPS produced a dossier purporting to show financial and personal links between President Trump, his advisers and Moscow.
It was compiled by former British spy Christopher Steele.
The White House and Republican lawmakers have questioned the firm's credibility.
Democratic Senator Dianne Feinstein released the transcript.
She said she had taken the step because of the "innuendo and misinformation" circulating about Fusion GPS, which were "part of a deeply troubling effort to undermine the investigation into potential collusion and obstruction of justice".
"The only way to set the record straight is to make the transcript public," she said in a statement.
Mr Simpson had requested the transcript of his 10 hours of testimony before the Senate Judiciary Committee be made public, the California congresswoman added.
Friday saw the committee's Republican chairman, Charles Grassley, call for a criminal investigation into Mr Steele.
The Senate Judiciary Committee is one of three congressional panels investigating Russia's alleged activities in the 2016 US presidential election and claims of collusion with the Trump campaign.
A separate Department of Justice investigation, led by special counsel Robert Mueller, is also looking into the allegations.
Mr Trump has repeatedly denied there was any collusion between his campaign and Russian officials.