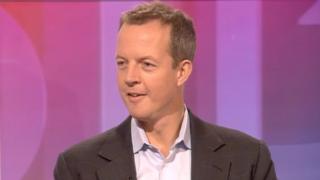 Chancellor Philip Hammond should declare an end to the "age of austerity" in this month's Budget, a former Conservative minister has said.
Nick Boles warned the party would lose the next election if all it had to offer voters was more spending cuts.
He called on the chancellor to scrap his deficit reduction target and unveil a "massive boost" in public investment.
Mr Boles was a close ally of David Cameron who served in his government from 2012 to 2016.
He told BBC Radio 4's Today programme: "The government can't, after seven or eight years, say that the policy we had eight years ago is going to be the only policy we can offer to the British public for another eight years.
"We can't expect to be re-elected if we have no new story to tell and no new direction.
"Our urgent problem in this economy is that wages aren't growing. They are not growing because productivity isn't growing and productivity isn't growing because our rate of investment is too low, both in the public sector and the private sector. That needs to be a priority now.
"The age of austerity is over. We now need an age of investment."
His call, in his book Square Deal, echoes those being made by Labour ahead of 22 November's Budget.
"Instead of dragging millions of ordinary people through the endless misery of Tory spending cuts, the chancellor now needs to make a decisive break with past Tory failure and end austerity," shadow chancellor John McDonnell said last month.
Mr Boles said the government was looking "wobbly" because "it doesn't have a clear direction and a clear set of policies."
'Get wages up'
He said austerity had been the right policy when the annual deficit stood at 10% of GDP, but it was "absolutely fine" for it to remain at its current level of about 2.6% indefinitely.
"Many governments run deficits of that sort of level year on year. So long as you are spending the money on investment, there is a very good prospect that that will generate a return in the economy that enables you to pay the debt down."
He said the "urgent priority now" was to "get productivity up and to get real wages up" .
In October last year, Philip Hammond ditched his predecessor George Osborne's target of eliminating the deficit – the gap between government spending and tax receipts – by 2019/20.
Instead, he said the new aim was to get rid of the deficit by the middle of the 2020s.
But he is coming under renewed pressure to ditch that target when he delivers his Budget, with the Institute for Fiscal Studies warning the deficit could be on course to be £20bn higher than expected by 2021/22, amid predictions of sluggish economic performance.