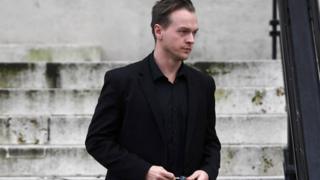 A man whose husband is accused of murdering their adopted daughter said he would not have tolerated any violence if he had known of it.
Matthew Scully-Hicks, 31, is accused of abusing 18-month-old Elsie over several months and causing "catastrophic" injuries before she died in May 2016.
Craig Scully-Hicks told Cardiff Crown Court his house had been "filled with love and happiness, all the time".
Matthew Scully-Hicks, of Delabole, Cornwall, denies murder.
Speaking via video link, Craig Scully-Hicks recalled the phone call he received on 25 May 2016 in which his husband Matthew told him their baby had been injured at their Cardiff home.
When asked how his husband was on the phone, Mr Scully-Hicks replied: "Upset. Crying. Elsie was really poorly. He'd had to give her CPR and she was in an ambulance."
He said he immediately drove from Leicester where he was working to University Hospital of Wales in Cardiff.
He became emotional when recalling seeing his daughter in hospital, saying: "She was on the operating table. I ran straight into the operating room. There were people everywhere and she was just lying on the table… the doctor said there was a problem with her heart and people are working on her."
He said Matthew Scully-Hicks had told him he returned to the living room after taking a nappy to the kitchen.
"He said she was lying on the floor and looked like she was asleep. She wasn't. He checked her airways, called an ambulance and started CPR," he added.
Prosecutor Paul Lewis QC told the court "doctors determined she could not be saved" and her ventilator was switched off. She died in the early hours of 29 May, two weeks after being formally adopted.
On Monday, the court heard she had suffered haemorrhages to her brain while post-mortem examinations discovered she had also suffered broken ribs, a fractured left femur and a fractured skull.
Matthew Scully-Hicks is accused of causing the brain damage by violently shaking Elsie.
'Daddy's little princess'
Craig Scully-Hicks said he was also not present at the couple's home in Fairwater, Cardiff, when any of the previous incidents had happened.
He told the court: "Let me be clear. My house was filled with love and happiness, all of the time.
"If I had suspected anything I wouldn't have tolerated it."
When asked over his preference to adopt a boy or girl, he said: "I just wanted a daddy's little princess really."
He said they had decided Matthew Scully-Hicks would stay at home and look after the children: "He wouldn't have had if any other way," he said.
In the months leading up to her death, Elsie suffered a fractured leg after falling in the kitchen and a fall down stairs, needing hospital treatment for both.
Mr Scully-Hicks said of the stair fall the defendant had told him he had been folding washing in their bedroom when Elsie had come out of her bedroom and climbed over the stair gate before falling.
Elsie was discharged from hospital the same day and not given any follow-up treatment.
Asked if he noticed any difference in Elsie after the fall, Mr Scully-Hicks told the court: "She was just generally very sore and achy, it lasted a couple of weeks. She didn't want to be put down, didn't want to play with her toys, it was like she lost confidence. I'm not sure she ever regained her confidence."
The trial continues.