Up to 30 Democratic senators have called on US Senator Al Franken to resign amid sexual misconduct claims.
In statements released almost simultaneously on Wednesday, a group of Democratic lawmakers said the embattled Minnesota senator must step down.
Mr Franken, a former Saturday Night Live comedian, has been accused of groping and sexually harassing seven women, including a US military veteran.
He has apologised to his accusers, while disputing some allegations.
In a statement provided to BBC News, Mr Franken's office said the senator "will be making an announcement tomorrow".
According to Minnesota Public Radio, the senator will resign his Minnesota seat on Thursday.
Senators Kamala Harris, Claire McCaskill, Maggie Hassan, Mazie Hirono, Patty Murray, Kirsten Gillibrand – all prominent female Democratic lawmakers – released their statements online.
They spoke out following a US media report that Mr Franken had allegedly tried to forcibly kiss a former congressional aide in 2006. He denied the claim.
Senators Tammy Baldwin, Bob Casey, Joe Donnelly, Debbie Stabenow, and Sherrod Brown released similar statements shortly after.
---
Women leading the way
Analysis by Anthony Zurcher, BBC News, Washington
With the seventh credible allegation of harassment levelled against Senator Al Franken, a dam is breaking – and, once again, women are leading the way.
One, after another, female Democratic senators have come out calling for Mr Franken's resignation. It's a drumbeat of condemnation that will be increasingly hard for the embattled Minnesota senator to ignore.
A day after John Conyers, the longest-serving current member of the House of Representatives, resigned amid allegations of harassment and assault, the Democratic Party appears to be coming to grips with the problem within its ranks.
This, however, is probably just the beginning – and, at some point, the politician in the firestorm may be from an at-risk seat. That's not the case with Mr Franken and Mr Conyers, and it will be at that point that party principles will be truly tested.
For now, however, Democrats can make a move for the moral high ground, as Donald Trump and the Republican Party rally around Alabama Senate candidate Roy Moore, who faces credible allegations of sexual assault and impropriety with teenage girls.
---
Others followed suit, including Dianne Feinstein, Heidi Heitkamp, Maria Cantwell, Elizabeth Warren, Ed Markey, Michael Bennet, Dick Durbin, Martin Heinrich, Jeff Merkley, Patrick Leahy, Ron Wyden and Tom Carper.
Senator Wyden said he expected Mr Franken to quit on Thursday.
'My right as entertainer'
Tom Perez, the Democrat National Committee chairman, also called on Mr Franken to resign in a Twitter post.
"Everyone must share the responsibility of building a culture of trust and respect for women in every industry and workplace, and that includes our party," he wrote.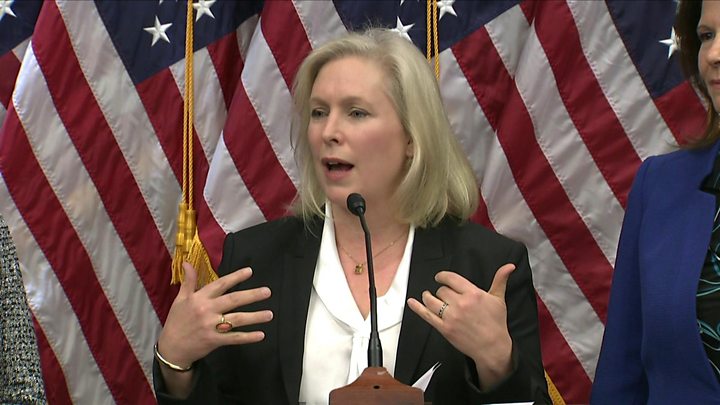 Mrs Murray, the third-highest ranking Democrat in the Senate, wrote: "It's clear to me that this has been a deeply harmful, persistent problem and a clear pattern over a long period of time."
"It's time for him to step aside," the Washington state representative said on Twitter.
Earlier on Wednesday Politico published an account from an unnamed former congressional aide who said Mr Franken had tried to kiss her in 2006 after a radio interview.
The Democratic aide said that after her boss had left the radio studio, Mr Franken put himself between her and the door and "was coming at me to kiss me".
"I was really startled by it and I just sort of booked it towards the door," she said, adding that he then told her: "It's my right as an entertainer".
Mr Franken said in a statement to the newspaper that the "allegation is categorically not true and the idea that I would claim this as my right as an entertainer is preposterous".
"I look forward to fully co-operating with the ongoing ethics committee investigation," Mr Franken added.