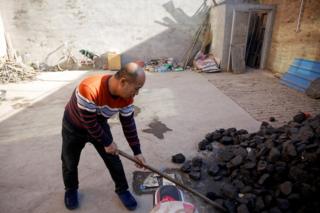 China's government has allowed some northern cities to burn coal in a temporary policy U-turn, as the country faces a heating crisis.
Beijing had banned the use of coal for heating this winter in an ambitious plan to reduce pollution.
Recent winters had seen heavy smog blanket China's northern region.
But millions are reportedly now left without proper heating, after failing to switch from coal to other fuels in time for winter.
The coal ban has also reportedly led to a gas shortage as people rushed to switch to the alternative source, which has compounded the problem.
Chinese media reported on Thursday that the environment ministry had issued a directive to 28 cities across north-east China.
The statement said the ministry had "discovered that in some areas, works to replace coal with electricity or gas had yet to finish according to plan, and there were anxieties about fuel sources to provide heating".
It said that such areas would be allowed to burn coal for heating, adding that in their transition away from coal, they must "continue to ensure that the number one principle should be keeping people warm in winter".
Subzero temperatures
As part of a plan to curb air pollution, the government had this winter implemented a coal-to-gas project across a large swathe of the country in the industrial north. Air quality this winter is said to have improved.
But reports have emerged in recent weeks in Chinese media of rural areas with a lack of alternative heating infrastructure struggling to cope with the coal ban, as some places see subzero temperatures. The campaign has also sparked criticism on social media, with many questioning its execution.
As millions of homes and factories switch to natural gas, China has seen a shortage of the fuel in several provinces, which has in turn led to a surge in prices to record highs since the start of the winter heating season in mid-November.
It has led some provinces to restrict industrial and commercial use of gas.
On Thursday a commerce ministry spokesman said that gas imports are set to rise with new gas pipelines and liquefied natural gas terminals on the way, in remarks reported by state news agency Xinhua.
But the state-owned Chinese National Petroleum Corporation has warned that the country might face further shortages of gas if the country is hit with "extreme" cold weather, Reuters news agency reported.
China's northern region has traditionally relied on coal for heating and power.
In 2015, China had to issue its very first red-alert pollution warning after smog descended on the northern region. It issued similar warnings last winter as well.